The Pickaxe Customization terminal allow the modification of the Pickaxe model into 7 different parts: Frontblade, Head, Backblade, Shaft, Handle, Pommel and Paintjob.
Parts are obtained from Lost Pack, Prestige Assignments or Cosmetics DLC.
You can randomize the pickaxe with the button below the pickaxe.
Pickaxe Sets
[
]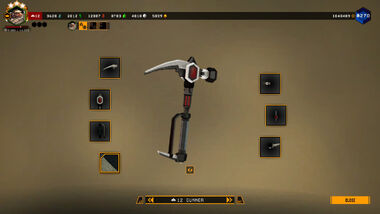 Unique Parts
[
]
The Frontblade and Backblade parts for a specific set are awarded together. Prestige Pickaxe set Backblades comes with a unique model and a copy of the Frontblade.
Unique Backblade from Lost Pack: Chop-Chop, Hole Digger, Obsidian Mallet, Skull Buster.
DLC Paintjobs
[
]
Paintjob
[
]
Default
Company Standard


Trivia
[
]
in the Space Rig by the Pickaxe Station; you can see unreleased and potentially upcoming pickaxe parts.