The Pickaxe Customization terminal allows the modification of the Pickaxe model regarding 7 different parts: Frontblade, Head, Backblade, Shaft, Handle, Pommel and Paintjob.
Parts are obtained from Lost Pack, Prestige Assignments or Cosmetics DLC.
You can randomize the pickaxe with the button below the pickaxe.
Pickaxe Sets
[
]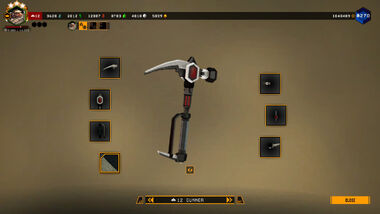 Unique Parts
[
]
The Frontblade and Backblade parts for a specific set are awarded together. Prestige Pickaxe set Backblades comes with a unique model and a copy of the Frontblade.
Unique Backblade from Lost Pack: Chop-Chop, Hole Digger, Obsidian Mallet, Skull Buster.
Season 02 Performance Pass
[
]
The parts for the Core Hound are rewarded at various levels of the Performance Pass.
Front Blade: Level 19
Back Blade: Level 24
Handle: Level 35
Head: Level 53
Shaft: Level 76
Paintjob: Level 81
Pommel: Level 91

DLC Paintjobs
[
]
Paintjob
[
]
Default
Company Standard

Lost Pack

Arc Welder's Delight
Bug Hide
Carven Pride
Hammerblow
Incorruptible
Jagged Son
Pneumatic


Prestige Assignement

Chasm-Borne Cliffhanger
Drift Crusher
Gadgeteer's Favorite
Reaper's Claw


DLC

MegaCorp
Roughneck
Dawn of the Dread
The Supporter
Rival Tech
Robot Rebellion

Trivia
[
]
In the Space Rig by the Pickaxe Station one can see unreleased and potentially upcoming pickaxe parts.