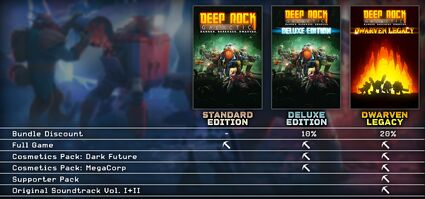 This article contains information about the Downloadable Content (DLC) released for Deep Rock Galactic. Currently, DLC can be only be acquired from the Deep Rock Galactic Steam Store page and has no impact on gameplay.
The Deluxe Edition contain the Base Game, Dark Future and MegaCorp cosmetics DLC for $41.37 USD; £33.27 (GBP); 41,37€ (EUR) with -10%.
The Dwarven Legacy contains the Base Game, all Cosmetics Pack, the Supporter Edition and the Original Soundtrack in one purchase of $69.53 USD; £54.65 (GBP); 69,53€ (EUR) with -20%.
Cosmetics Pack
Supporter Upgrade
Original Soundtrack
Content Creator Partner
External Links
See Also