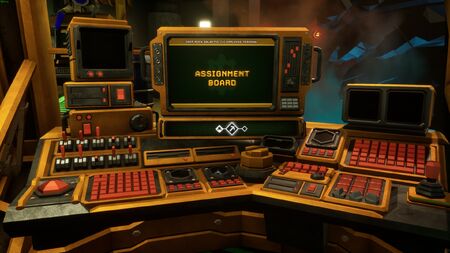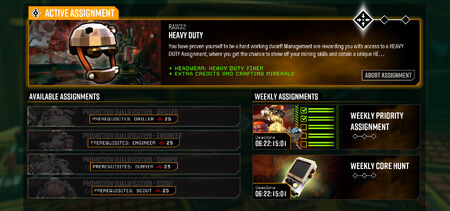 Assignments are short quests, consisting of a series of missions. You can have one active assignment at a time, and choose it at the Assignment Board in the Space Rig.
You are free to play any available mission even when an assignment is active, however the assignment only proceeds when you finish the next mandatory mission. Assignment missions are marked with a small white diamond.

There are currently 31 assignments available: Conquering Hoxxes IV, Four Promotion Assignments, Seven Prestige, Twelve Weapon License Assignments, One assignment for unlocking Hazard 5 difficulty, One assignment for unlocking the Mineral Trade Terminal, One assignment for unlocking Industrial Sabotage, Heavy Duty and Weekly Assignments. Additionally the Weekly Core Hunt reward Infused Matrix Core after completing Breach The Core.
Assignments
Objective: Conquer Hoxxes IV
This is a 10-mission long assignment that has to be played by every new player to unlock all available mission types and Planetary Regions. These missions are free of Mutators.
"
Welcome aboard, Miner!
Congratulations on your sound decision to sign up for Deep Rock Galactic! In the following series of missions to the surface of Hoxxes IV (or subsurface, really), you will familiarize yourself with Company mining procedures and on the proper handling of Company gear and resources.
Be aware that only the best make it in DRG, the course has a drop-out rate of 67% and 74% of drop-outs are a direct consequence of applicant fatalities.
Don't trouble yourself with such dark thoughts now, however. Welcome to the family. Together, we dig for a better tomorrow!
- Regards,
Management
— Assignment description
Company Benefits: Mineral Trading Network
This is a short, 3 mission long assignment that will unlock the Mineral Trade Terminal It becomes available after Conquering Hoxxes IV assignment has been completed.
"
Trade Terminal Course
Now that you've completed your introductory training, Management is pleased to announce the company-wide Mineral Trading Network. DRG believes it is important to promote a sense of accomplishment and camaraderie among its' employees, as well as offering opportunities towards achieving the goals of each employee.
Simply put: Use it to sell off what you don't need, and buy what you're missing. Be advised that a small percentage of proceeds will go to DRG in exchange for administration, taxes, transportation, valuation, oversight, insurance, taxes, storage, liability, drive-market positioning, advertising, maintenance, legal fees, and taxes.
- Regards,
Management
— Assignment description
Assignment: Breach The Core
Upon obtaining the first promotion, the end campaign assignment mission is unlocked. Completing this 9 mission long assignment will reward the player with 6 Infused Matrix Cores, as well as unlocks the Weekly Core Hunt assignment.
"
FORTUNE AND GLORY AWAITS!
Congratulations on your first promotion! We have this special one-of-a-kind assignment ready for you. It will be a long and tough drill, but you will be rewarded generously with Infused Matrix Cores. Complete this and you will get a good headstart on your collection of WEAPON OVERCLOCKS and Rare COSMETICS.
- Regards,
Management
New Hazard Level: Lethal
This is a 3 mission-long assignment, upon completion the player is granted access to Hazard 5 - Lethal. The assignment's missions can have mutators and have to be completed at Hazard 4.
"
Ready for a challenge?
Very few dwarves truly have what it takes to work the hardest and most lethal work environments Hoxxes has to offer. By the way - part of what it takes is equal doses of stupidity, recklessness and excellent combat skills! Prove yourself worthy and we will grant you access to Hazard Level 5 missions.
- Regards,
Management
— Assignment description
Spec Ops: Sabotage Training
A 3 mission long assignment that will grant the player access to the mission type Industrial Sabotage upon completion.
"
There's a new player on Hoxxes! An unknown mining company is prospecting this part of the galaxy, and we need to sabotage its prospecting operation and prevent it from reporting back about how prosperous Hoxxes is. Hoxxes is DRG property and we can't allow any other businesses to set up mining operations here!

Management takes an extremely dim view of this new development, and it is clear that we must fight fire with fire - the bottom line is at risk!

For that purpose, we have devised this short series of training exercises for you, to prove that you are up to the task of facing this new threat head-on. They will be heavy on the combat, and light on the mining - you will need it once you face our new enemy!
- Regards,
Management

— Assignment description
Weekly Assignments
These two assignments are repeatable in order to reward players for continued play. Like Deep Dives, they reset at 11am UTC on Thursdays.
Weekly Priority Assignment
This assignment changes every week to a random set of non-duplicate missions and crafting resources. Although they change every week, everyone shares the same set of missions and rewards, between 80 to 130 per Minerals and
8000.
"
Get ready to do overtime!
With the level of incursion on Hoxxes increasing, Management has introduced the Weekly Priority Assignment system to combat the growing workload. It means more jobs done for the Corporation, and hefty dividends paid out to the dedicated employees taking on these priority tasks. This is as close as we'll get to win-win scenarios around here, Miners. Get on it.
- Regards,
Management
— Assignment description
Weekly Core Hunt
After completing the Breach The Core assignment, the Weekly Core Hunt assignment is unlocked. It is a 3 missions long assignment that resets weekly. Completing the assignment will reward the player both a Weapon Overclock and a Cosmetic Overclock. If all Infused Matrix Cores have already been collected,
Blank Matrix Cores are rewarded instead.
"
LET THE HUNT BEGIN!
This is your chance to earn an extra MATRIX CORE. We don't really account for this as a true work assignment. We see it more like we are giving our core employees the opportunity to earn a little more for themselves. Complete the assignment and reap your reward!
...You're welcome!
- Regards,
Management
Equipment Licenses
Dwarves will unlock these assignments once reaching specific levels, these assignments grant them licenses to various equipment.
"
Weapon License Course
As an interplanetary mining conglomerate, DRG believes our employees should have access to a diverse array of the very best tools with which to accomplish the tasks set before them. Through your hard work and diligent efforts, you have been deemed a likely candidate for an upgrade to your weapons license.
Completing this short training course will ascertain this for certain and unlock the weapon for purchase at the Equipment Station.
— Assignment description
Driller
Engineer
Gunner
Scout
Promotion
When one of your dwarves reaches Character Level 25, they become eligible for a promotion. In order to promote, you have to complete a 4-mission long assignment, and pay a large amount of Credits and Crafting Materials.
"
We Salute You
Once in a while, exceptional employees like yourself prove to be a real asset for the company. We applaud your efforts and wish to express our gratitude.
For that reason, we are considering to put you up for a promotion. However, in order to fully qualify, you will need to complete a short series of high-risk/high-payout missions. These missions will also handily serve towards gathering whatever resources you need to settle and outstanding bills and/or fines with DRG Accounting before a promotion can be granted.
- Regards,
Management
— Assignment description
Driller
Engineer
Gunner
Scout
Prestige Assignments
When you reach a certain
Player Rank threshold, a 4-mission long Prestige Assignment becomes available, rewarding full Pickaxe customization sets, unique Armor Paintjob and Helmets. Each of these requires that the previous Prestige Assignment has been completed.
"
You have steadily been climbing the ranks and proven yourself an important asset on the company! Management are rewarding you with access to a SPECIAL PRESTIGE ASSIGNMENT.
- Regards,
Management
— Assignment description
Heavy Duty
This assignment becomes available after Conquering Hoxxes IV assignment has been completed. It's focused on the big machinery Missions and will reward 50 of each crafting materials, credits and a special helmet.
"
Prove yourself a DRG Roughneck!
You have proven yourself to be a hard working dwarf! Management are rewarding you with access to a HEAVY DUTY Assignment, where you get the chance to show off your mining skills and obtain a unique HELMET. You are welcome!
- Regards,
Management
— Assignment description
Pickaxe Hunts
Armor Hunts
Special Events
Yearly Performance Bonus
Assignment temporally available during the Holiday Season event at the end of the year.
"
BECAUSE YOU DESERVE IT!
Another year on Hoxxes IV is coming to an end, and that means it's time to go through a few checks and balances! Your performance has been deemed exemplary, and you have been selected to participate in this very lucrative Bonus Assignment.
ATTENTION: THIS ASSIGNMENT CAN NOT BE ABORTED WHEN FIRST STARTED! ...And it is LIMITED TIME ONLY, so complete it before the end of the year!
DRG wishes you Happy Holidays and all the best wishes for the New Year.
Regards,
Management
1 Rewards a Blank Matrix Core if all Weapon Overclocks are owned
2 Rewards a Mineral Canister if all Matrix Core Cosmetics are owned
Halloween Party Special
Assignment temporally available during the Halloween Season event in October.
"
TIME TO GO TRICK-OR-TREATING!
The Spooky Season is upon us, even in the Outer Rim! Yes, Halloween is here, and Management has as usual seen fit to have the drones deck out the Space Rig in the garb of the time. Do not ask where they manage to find pumpkins all the way out here. And as always, a series of lucrative special missions are offered, in return for a significant bonus.
ATTENTION! THIS ASSIGNMENT CAN NOT BE ABORTED WHEN BEGUN! And, it is LIMITED TIME ONLY, so complete it before the pumpkins rot away!
DRG wishes all employees a merry occasion, and kindly asks you not to clog the lavatories with shredded pumpkins once again. Let us not have a repeat of that nightmare.
Regards,
Management
1 Rewards a Blank Matrix Core if all Weapon Overclocks are owned
2 Rewards a Mineral Canister if all Matrix Core Cosmetics are owned